So what am I doing?
Other than freezing my butt off in sub zero artctic temps? Hibernating and knitting/crocheting of course!
My only completed new project can be seen her
STASHALONG
the baby blanket I desperately need to ship out, next week I swear *paranoid*. I love crocheting round-ish blankets, it's like instant gratification.
This (very attractive malabrigo, thank you so much for giving me this yarn you know who you are <3) lump will eventually be a lovely cropped 3/4 sleeve cardigan for spring, yes I'm thinking of spring! I need something to wear over the ON long tanks I seem to buy in bulk, lol. I started the sleeves last night so hopefully *crosses fingers* I can have the thing completed soonish.
Here is the infamous never ending cat skull/striped sweater. I can't even recall when I started it but I think the weather was hot so yeah it's been awhile.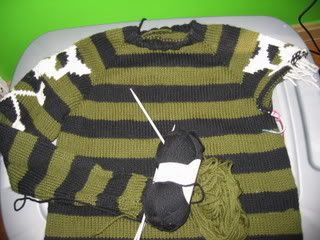 Sleeve detail: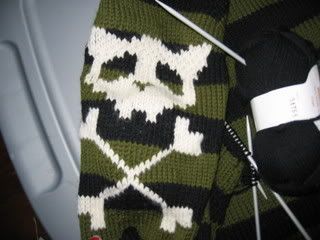 I am so proud of that sweater but I don't know why I can't bring myself to finish it *sigh* I charted that cat skull all on my own, I measured and sized the thing for myself it's going to look so cool on but it just seems like so much work to complete even though it's not.
And my non crafting project: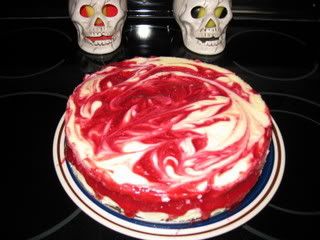 Mmm white chocolate raspberry cheesecake. You can see the last two people who tried to eat it on the stove there behind it *grin*.
Hopefully I'll have more to show for myself next time *sigh*.